Write your name on this this beautiful Happy Diwali for Friends image to wish Happy Diwali to your friends and family in a beautiful and heart touching way.
You can write your own names and quotes on this beautiful Happy Diwali for Friends image and then share the generated image with your friends or family or make this image as you facebook cover, instagram cover or whatsapp dp or profile pictures to show your love and care for them.
There are lot of new and unique Happy Diwali Greetings, Diwali Cards, Diwali Wishes and Happy Diwali Covers on our website MakeBirthdayCakes.com.
How to Use:
Write your name in the given text field "Your Name Here" and then click on the "Save Image" button.After some time a new popup window will open that contains download and sharing options.If you find any issues in making cards, wishes or greetings then kindly see our step by step tutorial on :How to Make Mother's Day Greetings
What is Diwali?
Diwali, or Dipawali, is India's biggest and most important holiday of the year. The festival gets its name from the row (avali) of clay lamps (deepa) that Indians light outside their homes to symbolize the inner light that protects from spiritual darkness. This festival is as important to Hindus as the Christmas holiday is to Christians.
Over the centuries, Diwali has become a national festival that's also enjoyed by non-Hindu communities. For instance, in Jainism, Diwali marks the nirvana, or spiritual awakening, of Lord Mahavira on October 15, 527 B.C.; in Sikhism, it honors the day that Guru Hargobind Ji, the Sixth Sikh Guru, was freed from imprisonment. Buddhists in India celebrate Diwali as well.
How do you wish Happy Diwali?
You can say 'happy Diwali' to celebrate the festival.
But here are three quotes you can also use to wish someone a happy Diwali.
1. Wishing you a Diwali that brings happiness prosperity and joy to you and all your family. Happy Diwali
2. May you life be as colourful, shimmering and magical as the lights of Diwali! Happy Diwali
3. May every aspect of your life be as luminous and wonderful as the lights on the lamps of Diwali . Happy Diwali
Keep Sharing: Happy Diwali for Friends image with your friends.Happy Diwali 🙂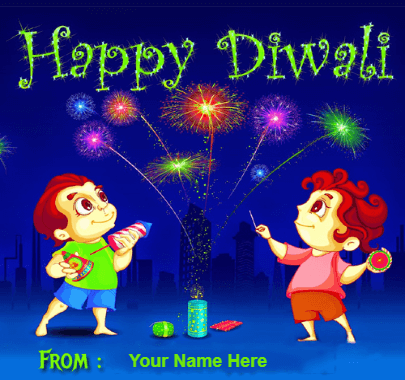 Image Generator Interface
Live preview
Your Image is ready for use and share :)